For better or for worse, we live in an age in which the smartphone reigns supreme. Smartphone subscriptions rose from 3.7 billion in 2016 to 6.3 billion in 2021, an increase of 71% in the space of five years; this rapid rate of growth shows no signs of slowing, with subscriptions expected to exceed seven billion by 2024.
It should come as no surprise, then, that mobile now accounts for more than half of internet traffic and the majority of video traffic: 63% of YouTube viewing time came from mobile devices in the second quarter of 2021. Advertisers poured ever-greater sums of money into mobile video marketing as portable device usage skyrocketed, and there is little doubt that this trend will continue. Of the $295bn that is expected to be spent on online video advertising in 2026, it is forecast that more than $227bn, or 77%, will be allocated to mobile video ads.
In this article, we'll examine some of the recent developments in the booming sector of mobile video advertising. Let's take a look at the mobile apps that are most popular amongst certain demographics, get to grips with the video formats that have enjoyed the highest levels of engagement and explore how marketers have responded to these developments.
Short-form video ads are the stars of the small screen
One of the key mobile video marketing trends to keep in mind is the increasing use of short-form (10-60 second) vertical videos. This is due, in large part, to the ascent of the TikTok mobile app and the increasing use of TikTok ads.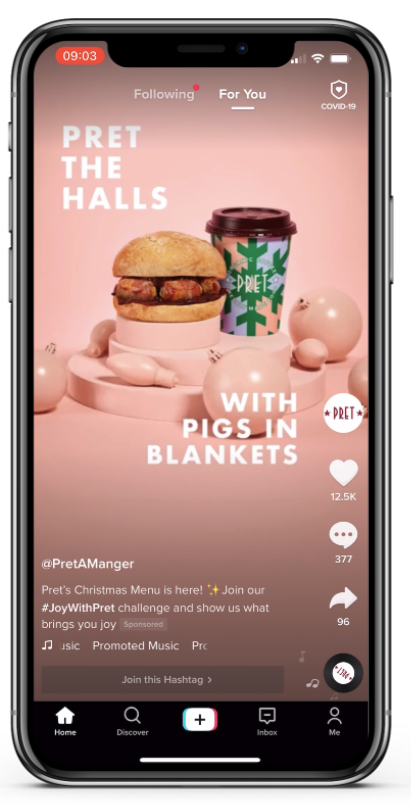 Much has been made of TikTok's addictive appeal. Vast numbers of Zoomers, as members of Generation Z are affectionately known, spend their waking hours consuming content on TikTok and uploading video clips of their own to the platform. According to leaked documents, users spend almost an hour and a half each day on the app, and 42% of these users are aged between 18-24.
TikTok's runaway success in the short-form video space has spawned a number of attempts by its competitors to catch up: YouTube and Instagram introduced Shorts and Reels respectively in 2020. Whilst YouTube has enjoyed a certain amount of success and plans to start running ads on their Shorts, Instagram has struggled; internal Meta documents have revealed that Reels engagement is less than a tenth of that of TikTok. As a consequence, TikTok has, according to media buyers, received the biggest share of the budgets allocated to short video ads, and it is projected to generate more online video advertising revenue than YouTube and Meta combined by 2027.
Needless to say, TikTok – and the short-form video medium that it has pioneered – have triumphed. TikTok achieved the highest growth (29%) in overall ad spend in the third quarter of 2022, and the amount that brands invested in short-form video on Instagram and Facebook surged by a whopping 754% between Q2 and Q3 of 2022.
Expect to see more businesses use TikTok videos to enhance brand recognition and awareness in the years ahead. Frank's RedHot ads are a good example of how brands can use viral jokes in order to blend into TikTok's culture, as this Tell Me You're Hot In-Feed Ad demonstrates.
Find out more about how Food & Beverage brands can use TikTok to market their products, and check out our TikTok Guide for Brands.
The live stream has gone mainstream
Live streams represent a golden opportunity for marketers to forge a more intimate bond with prospects and interact with potential customers in real time. As such, streaming platforms such as Facebook Live lend themselves naturally to businesses seeking to enhance brand awareness, boost sales and provide product demonstrations.
Much like TikTok, live streaming exploded in popularity during the Coronavirus lockdowns: there was a 300% increase in live streaming events between March and August 2020, driven in large part by people seeking out raw, authentic human connection during periods of social isolation.
This culminated in social media companies launching livestream shopping, or live shopping, platforms. Instagram rolled out Instagram Live Shopping in August 2020, enabling brands to sell their products during live Instagram broadcasts. More recently, YouTube partnered with Shopify, an eCommerce platform, to add live shopping tools to its platform in July 2022, and TikTok introduced live shopping ads in August 2022.
Live shopping has triumphed in the Chinese market, and it remains to be seen whether it will take off in the West. However, given the substantial investments that have been made recently by YouTube, TikTok and Amazon in their live streaming shopping features, it seems likely that live streaming and mobile-first live shopping platforms will remain a significant part of the mobile video marketing landscape.
It's Game On for In-App
Mobile Video Advertising
As lovers of the Candy Crush Saga will attest, mobile games are delightfully addictive. Gaming apps are the most popular app category in Google Play Store, and whilst mobile game revenue is expected to decline in 2022 following a couple of years of rapid, lockdown-driven growth, the mobile gaming market is expected to begin expanding again before long.
Of the various ad formats that have been used in mobile gaming apps, rewarded video ads have emerged as one of the most effective forms of in-game advertising (IGA). They offer app users a reward in exchange for watching a video or engaging with a playable ad (interactive video ads that allow users to get a taste of other mobile app games by playing a short preview).
Rewarded video ads are favoured by game developers, ad publishers and even the gamers themselves. This innovative ad format is a fantastic example of how video ads can enhance, rather than obstruct, the mobile gaming experience whilst also delivering a high ROI.
Conclusion
Given these developments, there's no question that this is a very exciting time indeed for the world of mobile video advertising. We hope that this information helps inform and inspire your next mobile video marketing campaign.
Small Films is a video production company in London. Our team of videographers, editors and animators create all sorts of videos, including awesome product videos, testimonial videos, explainer videos and animations that can help bring your brand to life. Do get in touch; we'd love to hear from you!