Interactive video is a digital or linear video that supports user interaction through clicks, touches, taps and movement and goes beyond the ordinary play and pause technology.
Viewers become the creator and navigate through the video choosing the narrative, selecting the storyline and making decisions based on their interests.
Interactive video for online advertising can be extremely rewarding. You can achieve a much more detailed and personal account of your viewer's personality, and it has the potential to be worth a lot more than linear video or targeted marketing combined.
Interactive video first started as a simple click on a video advert that would play before an online TV show or on a pre-roll ad on YouTube. The ad would ask the viewer to click on the product or image they would like to learn more about, and the brand then captured this information.
Brands like Maybelline, Burger King, Mcdonalds and Volkswagen are already using interactive video in advertising to understand better and engage their customers. But there should be a lot more brands using it, especially in 2020.
Interactive video offers a lot of opportunity and creativity. And it's not just online but also out of home devices where interactive video can be used. For example, McDonald's are constantly doing outdoor interactive advertising like this Poster Puzzle display that encouraged the public to solve the puzzle to "sort their heads out", which promoted their €1 large coffee.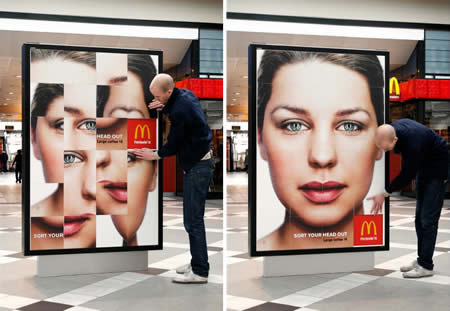 Interactive video online is still new territory for many brands and with just a few early adopters. However, this does not mean that interactive video doesn't work – it just means that it is not a well-trodden path. And because the internet isn't saturated with interactive videos, this means that there is a lot of space and opportunity to harness this medium and gain some great engagement.
Here are some examples of interactive videos from brands that have worked well.
This is an interactive video Deloitte made for their recruitment scheme. The viewer is taken on an interactive experience of someone's first day at Deloitte, and they need to make important decisions throughout the day that will reflect whether you will fit in at Deloitte.
This is another example of an interactive video made by Maybelline New York. It's a tutorial video to help people use and apply makeup in the right way and allows the viewer to choose which type of makeup style they are interested in learning about.
As well as allowing the viewer to choose the video's narrative based on their personality you can also create interactive videos that allow viewers to select products to purchase or learn more about.
You can also use interactive video to understand your viewer's touchpoints, interests and needs. A video made for GSK by Wirewax where the viewer can choose what part of the body they are having athletic difficulties with. The video will show the viewer a workout routine to help that area of hindrance from the choice made.
Do these videos work? They definitely help engage viewers and get them to pay more attention to the video, the brand, the products on display, and the message of the video. But do they work at capturing information and converting a viewer into a customer?
We know that 82 percent of all web traffic is predicted to come from video by 2022 (Cisco) so, the need for video content that stands out from the crowd has never been more poignant. We also know from research that Interactive video content generates 2x more conversions than passive content (Kapost), 4-5x more page views than static content (LinkedIn) and, 93% of marketers say interactive content is somewhat or very effective at educating the buyer, versus just 70% for static content (Demand Genreport). A study by Wyzowl found that 23% of video marketers have used Interactive video as a channel (up from 20% in 2018), and out of those, 83% say it's been successful for them (up from 78% in 2018).
Interactive videos work great as internal videos for recruitment, induction and training, B2B explainer videos and B2B marketing videos, and they work well as B2C online advertising and social media marketing. The best thing about interactive video is the amount of data you can capture and how precise that data can be. Because you are leading the audience into a set of options and based on their decision, you can understand them on a more personal scale. With every click, you learn more about your audience. You can then group them more effectively into categories based on interest and values and then better market to them at a later stage (Kaltura). Because your audience controls their video experience and their experience with your brand, they are a lot more receptive, open and ready to engage, making them more willing to give up their time and information. 
If you are thinking about interactive video, then play around with the ones out there already and see whether you can imagine your brand using this form of marketing. If you don't want to go straight into interactive video, then do something similar to Buzzfeed on Youtube and try some interactive quiz adverts that ask the audience a few simple questions about the market. Buzzfeed gets over 75% of its Quiz traffic from social media, and many quizzes used in marketing work exceptionally well at engaging and capturing customers (Mashable).
To find out more about using interactive video, contact us.
Small Films is a London video production company. We create results-driven films for the likes of Aldi, EDF Energy and Eton College.