The video can be the make or break of a crowdfunding campaign. Needing to showcase the passion behind the project, the story of how you got there, plus the challenges your product solves – a Kickstarter video has to create a big impact to raise that all-important investment.
As experts in crowdfunding video production, here at Small Films, we've picked out the top 10 best Kickstarter videos. From awesome crowdfunding video scripts to stand-out motion graphics, these films are excellent examples of what raises the big bucks. So if you're looking for a video production company in London then do give us a shout.

Moving away from technology, Analog is a productivity tool that takes users back to pen and paper. Raising almost $500,000, this crowdfunding video uses shots that really highlight the beautiful craftsmanship behind the product. As any crowdfunding campaign should, the video delves into the story behind the idea, the challenges it solves and why it's a step above online project management tools. Viewers aren't left in the dark about how it works – this crowdfunding video is so effective because it gives a step-by-step view of how to use the product.

Crowdfunding target: $6,000
Money raised: $451, 577 (as of 28.09.21)
No. of backers: 5,039
Crowdfunding platform: Kickstarter.com

Phone case brand Mous created this kickstarter video to raise funds for their indestructible phone case, Limitless. This crowdfunding video has you hooked from the start as the camera sweeps towards an iPhone about to be dropped from a 40ft crane. Packed full of stunts, this Kickstarter film does a great job of showcasing the strength of the case whilst also featuring close-ups of the awesome engineering of the product.
Crowdfunding target: $15,000
Money raised: £1,810,185
No. of backers: 54,653
Crowdfunding platform: Indiegogo.com

This crowdfunding video from Misen really leverages the success of their previous well-funded product. And with a clear and snappy video showcasing how good their new range is, it's no wonder they've smashed their original target of £18k. This is a great example of a crowdfunding script done well. It's clear, engaging from the start and shows the passion behind the brand. Viewers won't doubt that the pan does what it says on the tin, with numerous shots of different recipes being created oil-free and without a sticky pan in sight.
Crowdfunding target: £18,000
Money raised: £855,377 (as of 28.09.21)
No. of backers: 5,026
Crowdfunding platform: Indiegogo.com

Bringing sharp humour to their video, it's no surprise that Hitch's crowdfunding campaign raised over $1.2 million in funding. The super slick script adds a light-hearted edge to the importance of eradicating single-use cups. They highlight the 'why' behind the brand and clearly show the product in action, so viewers can easily imagine this nifty design as part of their own lives.
Crowdfunding target: $10,000
Money raised: £1,208,069
No. of backers: 14,992
Crowdfunding platform: kickstarter.com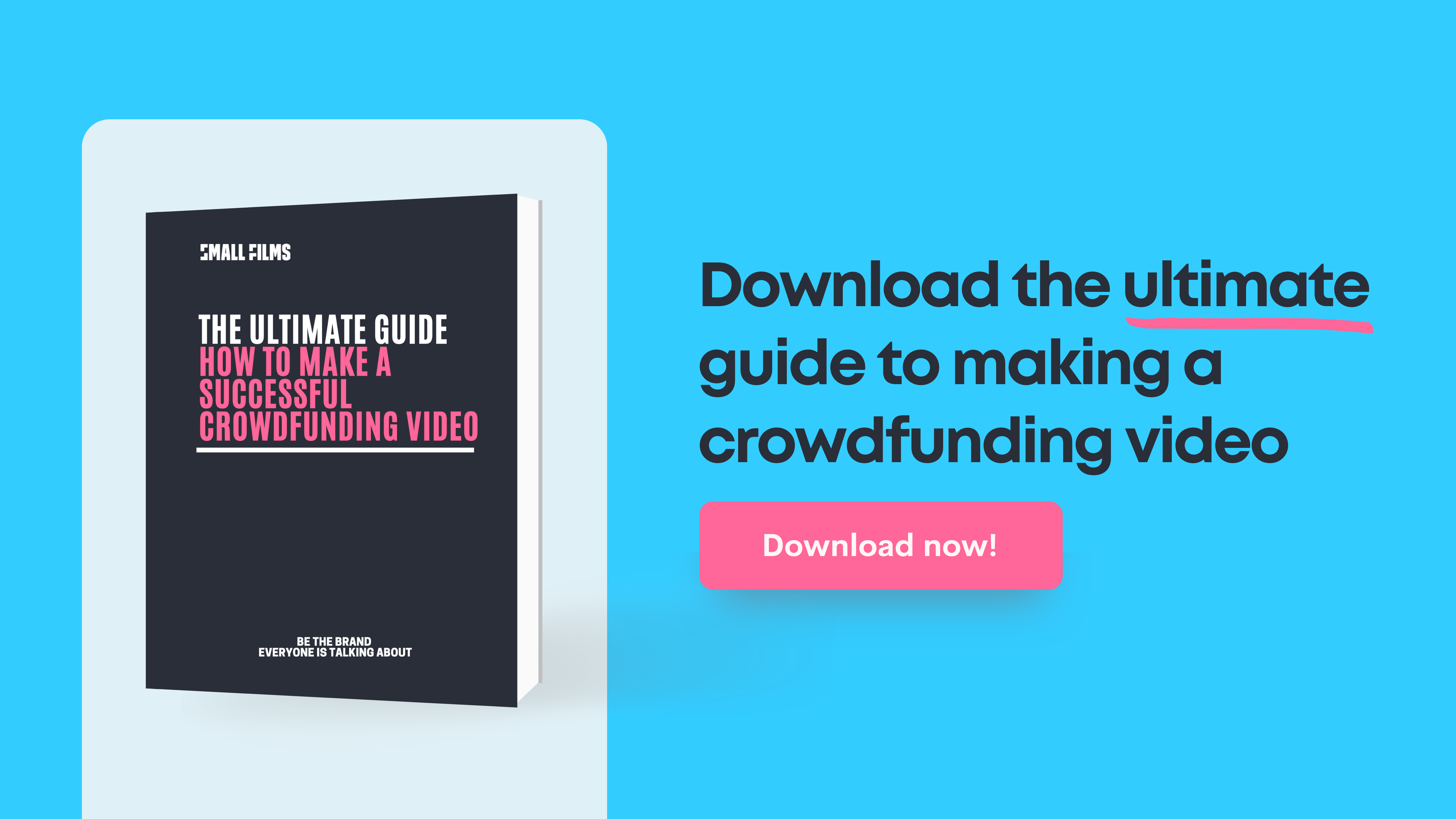 This vegetable crisp brand created a fun and engaging video to help with a new Seedrs investment raise. Featuring their founder, Emily Wong, this crowdfunding video does a great job of capturing the cheery personality of the company whilst also highlighting the story behind the flavours. With a mix of video and motion graphics, this kickstarter video helped to raise a whopping £1.1 million during its crowdfunding campaign.
Learn how our crowdfunding video company can help you

Showing excellent product shots, slow motion coffee clips and behind the scenes videos, this video is a great example of a Kickstarter video that takes the viewer through the story of the product. The video has been scripted to really put the watches sustainability front and centre – appealing to investors who want to look after the planet.
Crowdfunding target: $20,000
Money raised: £63,133 (as of 28.09.21)
No. of backers: 472
Crowdfunding platform: kickstarter.com

In this crowdfunding video, Infabode has turned what could be a dry subject into something that is engaging and easy to understand. The video really taps into the problem that Infabode solves and by choosing motion graphics they haven't restricted themselves to just showing their website. This B2B video raised an amazing £750,000 in investment.
Crowdfunding target: $750,000
Money raised: £763,043
No. of backers: 177
Crowdfunding platform: Seedrs.com

This super-smart kit is designed to turn anything into a chain reaction machine. The toy isn't just designed to help problem-solving, it's designed to bring resilience, collaboration and creativity to how kids learn. And this is cleverly shown throughout this crowdfunding video. Momentix cleverly captures the range of home products that can be used alongside the kit – helping viewers to imagine using it in their own homes.
Crowdfunding target: £4,738
Money raised: £17,271 (as of 28.09.21)
No. of backers: 258
Crowdfunding platform: kickstarter.com

Kaelo has created one of those awesome products you didn't know you need. A wine cooler that's integrated into the worktop, Kaelo keeps the wine chilled (and within arms reach). This video captures brilliantly the lengths the founder went through to bring Kaelo to market (an amazing 7 years in creation) and also highlights the great team behind it – so you know from the offset this is a great product to invest in.
Crowdfunding target: £575,000
Money raised: £815,178
No. of backers: 425
Crowdfunding platform: crowdcube.com

Another nifty design, Foldeat's crowdfunding video gets your attention immediately by playing into healthier eating patterns. The script is light-hearted whilst also giving the hard-hitting facts. Is it washable? Can it cope with liquids? No questions have been left unanswered with this video, taking the viewer through the journey of how Foldeat can be used to create a better away-from-home dining experience.
Crowdfunding target: $10,000
Money raised: $1,802,512
No. of backers: 21,154
Crowdfunding platform: indigogo.com
If you're looking for a

crowdfunding video production company, then Small Films are well versed in creating films that raise the big bucks. We've helped numerous companies raise millions of pounds across the years and we'd love to chat

about how we can help you reach your crowdfunding goals.