CROWDFUNDING
VIDEO PRODUCTION
We specialise in creating award-winning crowdfunding videos that have raised millions of pounds for our clients.
We helped Mous raise £2 million for their indestructible iPhone case. They were ranked as one of Forbes "fastest revenue growth startups".
Tell your story. Raise Millions.
A good video can make a huge difference to the overall success of your crowdfunding campaign.
At Small Films, we don't just create crowdfunding videos that "look great", we help you tell your story in the right way so you can have maximum impact.
We enabled Emily Crisps to smash their crowdfunding target on Seedrs so they were able to sell the company for a life-changing sum.  Click on the video!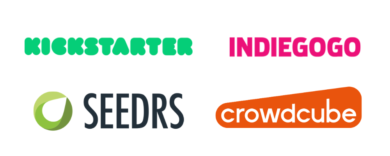 "Fabulous job and big thank you for the extra effort.  Am really impressed by all the work the team has put in."
Emily Wong, Emily Crisps
We'll help you hit your
crowdfunding goal with our videos
Raising £815,000 for
wine chiller brand, Kaelo
Fundraising £1.1 million
for Emily Crisps
Smashing crowdfunding
targets by 16,000% for Mous
Best-in-Class Crowdfunding Video Production
We have a proven track record of raising millions in crowdfunding.

Our team have over 30 years of combined experience in video production.

We work with all the major crowdfunding platforms including Kickstarter, Indiegogo, Seedrs, Crowdcube and others.
We aren't just creatives. We have a deep understanding of digital marketing strategy and getting maximum exposure for your campaign.

We are a results-driven video production company in London. This means we aren't just focused on our films looking good. They need to get you a result.
SUPERCHARGE YOUR CAMPAIGN WITH SMALL FILMS
These are the ingredients that go into your crowdfunding videos
Ideas and concept creation
Scripting and Storyboarding
Filming, Editing, Motion Graphics and Animation
Digital Marketing (Facebook, Instagram, YouTube Advertising)
Don't take our word for it! Watch Matt Partridge, CEO of Infabode talk about working with Small Films to raise nearly £1 million in crowdfunding.
A SIMPLE CROWDFUNDING VIDEO PROCESS THAT DRIVES RESULTS

Discovery Call
We get to grips with your objectives.

Quote
We'll come back to you with a quote for your film.

Deep-Dive
We'll get under the skin of your business to understand your challenges.

Ideation
We come up with a concept for your film.

DIGITAL MARKETING
We can create Facebook and Instagram funnels to boost your campaign.

Delivery
Final files provided in Mp4 format. Free hosting on Vimeo Pro.

Editing
We allow 2 – 4 weeks for editing including your feedback.

Filming
Filming typically takes 1 – 2 days.
Crowdfunding video packages that deliver the best ROI
SIMPLE
Simple creative approach
1 day's filming
All Editing
Basic motion graphics
Suitable for raises up to £500,000
£4,950 + VAT
PREMIUM
Most Popular
Premium creative approach
Unique concept creation
Senior Team
1 day's filming
All Editing
Premium motion graphics
Suitable for raises up to £1 million
£6,950 + VAT
ADVANCED
Advanced Creative Approach
Unique concept creation
Senior Team
2 day's filming
All Editing
Advanced Motion Graphics or Animation
Suitable for raises up to £2 million.
£12,950 + VAT
Discovery Call
Strategy Session
Video Marketing Expertise
Ideation and Concept Creation
Filming and Editing
On-Camera Coaching for you and your team
Cutaway shots within the environment
Company Branding Across all Video Assets
Call-To-Action
Licensed Production Music
2 rounds of feedback on the edited videos
Final files delivered in mp4
Video hosting on Vimeo Pro
Digital Marketing Strategy or Implementation
FREQUENTLY ASKED QUESTIONS