There is no doubt that creating a crowdfunding video to help launch a campaign and gain investment for your business is effective, but creating a successful video will take your marketing up a notch.
If there is one thing that people want more of today, it's video content. Did you know that nearly 70 per cent of consumers would rather watch a short explainer video about a product or service than reading about it (Wyzowl)? Sixty-eight per cent of those will watch a video in its entirety if it's under one minute long. It makes you think, doesn't it?
Creating an engaging crowdfunding video
Most entrepreneurs are looking to fill a gap in the marketplace with their innovative products or services. Crowdfunding is a way to attract investors to help launch or expand something that they see as valuable. Your video should help people with a particular itch to scratch to find the solution they are looking for.
Your video script should be able to solve a problem concisely and communicate this at their level. This means making a video that isn't too advanced and hard to understand, nor too simplistic that may act to trivialise your goals. It also allows a space for you to show your passion, ethos, and mentality about the project you are raising funds for.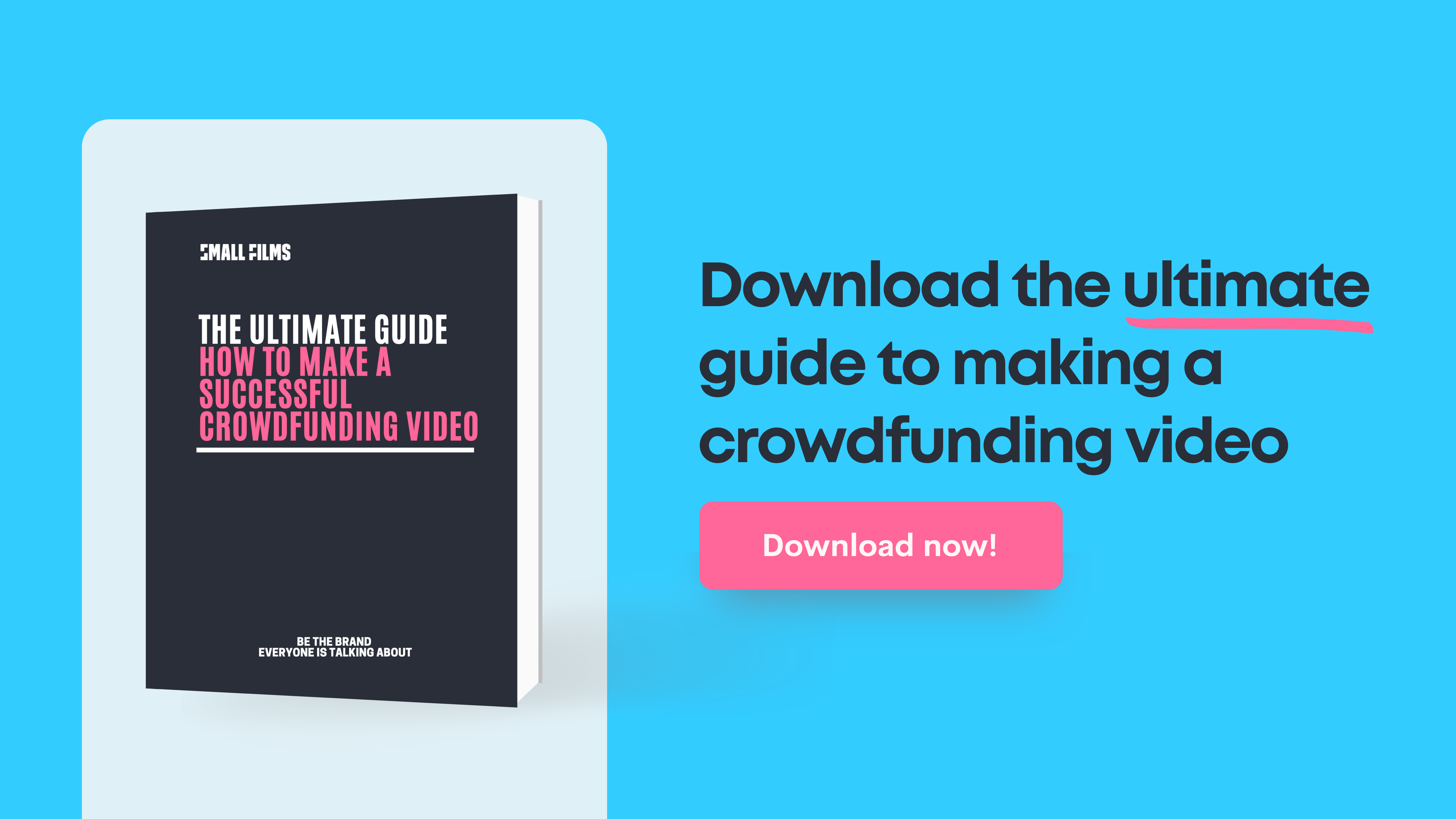 Your crowdfunding video should cover a few essential areas if you want to realistically achieve your funding goal.
These include:
Be yourself. If you are pledging for a product or project, people buy personality. Show your passion and genuine love for the end goal you want to achieve!
Hook your audience as quickly as possible. Explain the problem or issue you address with your new product/service. Follow this with your solution or steps to take to resolve the problem.
Keep it snappy. Nobody wants to see a long, drawn-out video that wastes time. Get to the point, be concise and clear.
Include clear branding. Make your company more memorable from the offset.
Cover the basics. This is a sales pitch. You wouldn't believe how many crowdfunding videos don't explain the bare necessities:
Tell the viewers who you are.
Tell the viewers the story behind your project. Your goals, your ambitions.
Ask for support, explaining how much you need it and what you will do with the money.
Talk about how amazing the rewards will be.
Explain that if the goal isn't met, bad things will happen, and your passion project will die.
Make sure to thank everybody and put on a big smile!
These basics can make or break a crowdfunding video – be sure to tick these boxes before publishing a video.
It can also help to remember that many people may watch your video while at work, so they may have it on mute – use captions and B-roll footage to help get your message across. Using B-roll also allows the viewer to get an excellent contextual idea about the ethos of the brand or individual they may be helping to fund.
Ensure that captions look great and are accurate, that your graphics look polished, and that you've included a call-to-action. In this case, you're asking your viewers to donate. Make sure it's clear to them how, where and by what date they can still invest.
Getting the right video production support for your crowdfunding video
Unfortunately, not everyone is a born filmmaker and will need to get some outside help. It is not surprising when there is so much to learn about video creation. A busy entrepreneur doesn't have the time to learn about the technical side of shooting a video, such as the lighting, sound quality and choosing the right filming environment. Then there is the storyline and script to think about, and not to mention the final editing. You can see how the whole process can quickly become overwhelming.
As a London-based video production company, Small Films is here to help entrepreneurs with their crowdfunding videos. We specialise in creating holistic campaigns that boost brand awareness and help drive investment in new start-up brands. Our expertise in creating award-winning crowdfunding videos has raised millions of pounds for our clients. Have a look at what some of our previous clients have had to say.
Something we are especially proud of is our work with Emily Crisps. Have a look at the video and campaign that raised over £1.1 million and see for yourself what a good crowdfunding video looks like! We also worked with Kaelo, a super-awesome surface integrated wine cooler company. Our crowdfunding video helped them smash their target by 140% raising a whopping £815,000 in total.
As a crowdfunding video production company in London, we know exactly what it takes to create a video that raises the big bucks. If you'd like to chat with the team, then do get in touch.