Food manufacturers need to tell their customers what ingredients are used in their products, what they taste like, and how they appeal to their taste buds. With so much competition in the food industry, you need your customers to buy your products, so you must send them a marketing message that will stand out from the crowd and make your food and your brand more memorable.
You must make sure that your food marketing strategy focuses on your customer's primary desires, whether that be health, taste, convenience or sustainability.
With that in mind, let's look at twelve ways to make sure you are doing everything you can to attract customers using effective food marketing.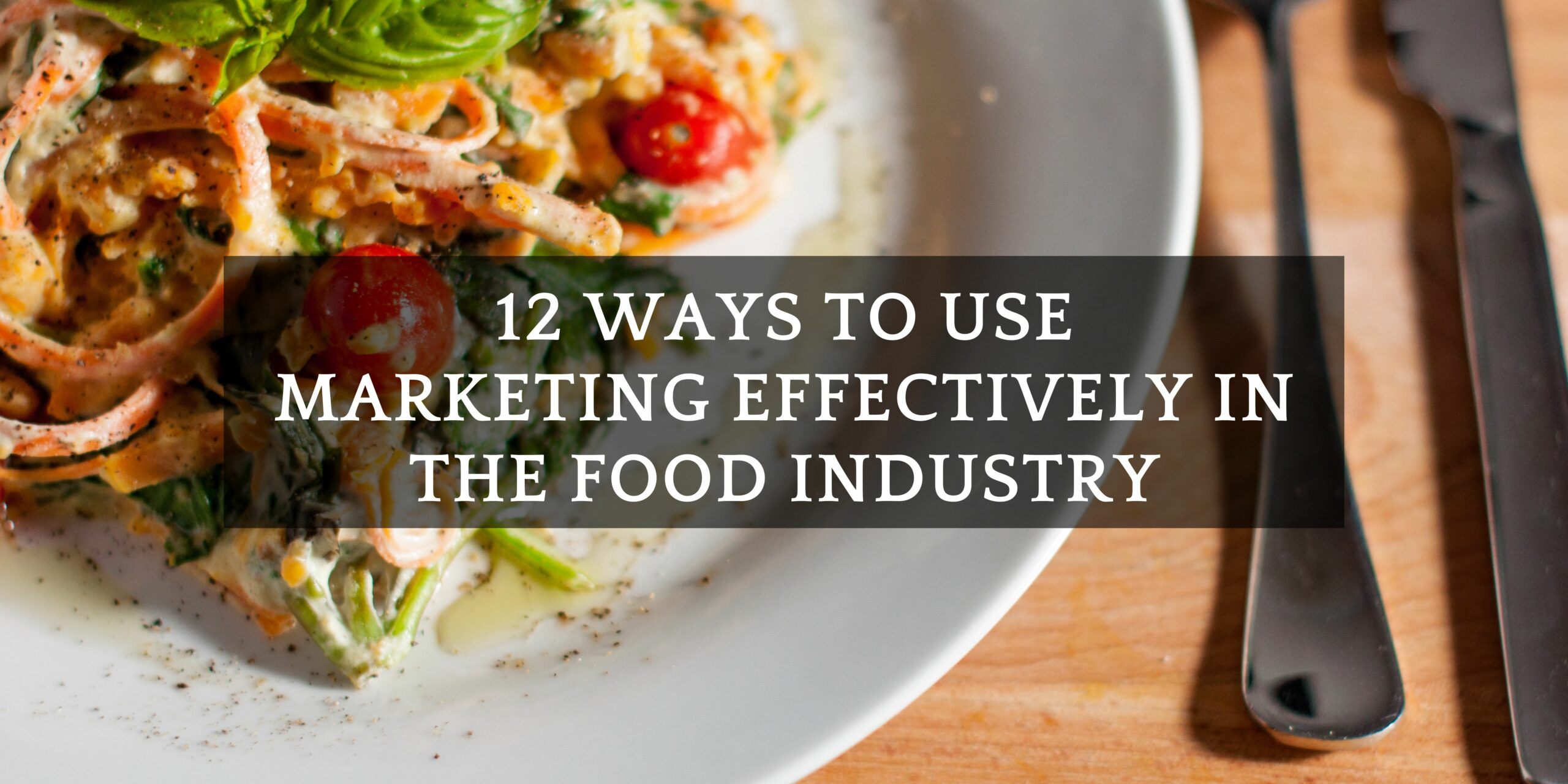 1: Use your blog
Blogs are a great way to get your brand and food products noticed. Keeping your blog fresh with regular posts helps your website rank high on search engine results pages (SERPs). It will also help better position your company as an authority in your sector and help to drive more traffic to your website.

2: Approach influencers to promote your brand
If the digital revolution did anything, it was to create a new type of influential celebrity. From celebrity chefs to self-made YouTube food personalities, approaching food bloggers and chefs with their own channels to promote your food products is a sure way to gain recognition.
A few encouraging words during a show and tell on the right blog will do amazing things for your brand. Approach a few food bloggers that match with your product. Choose the ones that often do product reviews and offer up some free samples for them to try.

3: Go social with your food products
An easy way to drive traffic to your website is to share your blog posts on social media. You can try boosting your post on Facebook by running ads to help promote your blog posts.
Facebook will target the feeds of your perfect demographic to show your ads, so with their help, you can easily reach your target audience. When creating your ads, always remember to include a Call-To-Action (CTA) to direct your readers back to your blog posts.

4: Run a competition
Everyone likes something for nothing and running a competition to win a prize is one of the most popular ways to raise your profile. You can run a competition on your website and share it across all of your social media pages, but make sure that all entrants like and share your post to be eligible for entry.
Make your competition fun and easy to complete to increase engagement. This could be by taking a selfie with one of your food products and posting the photo on social media using a specific hashtag for your competition. This type of competition will create a buzz on social media and create a set of personal testimonials for your food products.

5: Host a live online event
One of the best ways to promote your food products is to host a live Q&A session on YouTube. You will be able to answer your viewer's questions in person about your product, which is a great way to convert hesitant leads into paying customers.
You can promote the event across your social media pages to draw in live viewers and allow anyone that missed it to watch your event at a convenient time.

6: Recruit affiliates
Set up an affiliate programme that your customers can join. You don't need to sell to a happy customer, but you can leverage their loyalty and enthusiasm for your food products and brand. Not only will your affiliates help to raise awareness of your brand, but it is also relatively easy to gain sales through peer-to-peer relationships.

7: Create visual stories on Instagram
Instagram Stories are a compelling way to promote your brand and food products. Visual stories are very engaging, and you can use plenty of tantalising images of your food products to help your viewers explore your range and show them ways to use your food products.

8: Email marketing
You can build trust and brand loyalty by reaching out to your customers with a personalised message. Once a customer has made a purchase or has subscribed to your mailing list, you can send regular informative content about your products to keep them engaged.
Make them feel special with exclusive early sneak-peeks of your new products before they are released to the market. Tell them about upcoming competitions and offer them early entry. Email marketing is a long-term strategy that helps build brand loyalty and customer trust.

9: Promote seasonal offers
Even if you offer evergreen food products available all year round, you can pull out the stops to offer special seasonal offers and deals to help promote your products. Offer money-off coupons to encourage people to buy your products at Christmas. Promote your offers on Facebook and across all of your social media platforms.

10: Promote customer video reviews
Did you know that 83% of businesses feel that video marketing boosts their ROI? Run a competition across social media that involves your customers taking a selfie with your product or a video of them consuming and commenting on your product. You can use this material to make exciting user-generated content that will appeal to your target audience.

11: Create infographics
Remember that you only get 6-8 seconds to grab a potential customer's attention. A sure-fire way to grab attention and convey your message is to create eye-catching infographics. Infographics use a combination of content, graphic design and data to create unique visual content.
Infographics are also helpful for delivering information about food products or ingredients that are dry or not visually captivating. Plus, infographics are very appealing and infinitely sharable across social media!

12: Video marketing
The most powerful marketing tool you have at hand to sell your food products is video! These days, people tend to have a short attention span, so video marketing appeals greatly when trying to grab the attention of browsing customers who are not sure what they are looking for.
You should use short, creative and unique videos that incorporate your brand and food products in a visually attractive way. If you can make your video's easily relatable to your target audience, you will see a significant boost to your conversion rate.
However, you need to know what you are doing when creating your video content to ensure you are sending the right message and targeting the right audience. In this case, it will pay to bring a professional video production company on board, such as Small Films.
Our professional film production team will work with you on your video marketing plan. We will film and edit your video for you and even include animations and graphics that smoothly mix live-action shots with motion graphics to help deliver your message.
Why not contact us today to find out how we can help boost your video and digital marketing campaigns.