We have all seen the adverts. The pouring of a refreshing drink over a mountain of ice in slow motion; bursts of colours that make food look tantalisingly tasteful. There's something about watching ingredients come together visually that gets our juices flowing.
Food imagery is big business. In 2018, pizza received around 35 million hashtags on Instagram, which was more than Beyonce and Kim Kardashian combined. We clamour around food to take pictures as if Brad Pitt had just stepped on the red carpet.
On YouTube and Vimeo, top-down cooking videos are one of the most popular video types. It turns out that food really is the key to our hearts, and food & beverage (F&B) filming is a primary way to get us in the mood for culinary delights.
But how do food and drinks companies create such high-quality videos, and how can your brand master the concept of filming it to make it irresistible to your customers?

There are so many more ways to use food filming now but we still love the M&S food adverts.
Why filming food is so popular
Much of the pleasure that we get from food, and drink, of course, comes before we've even tasted it. Appearance is everything, and seeing a well-prepared meal is enough to get our taste buds tingling. Filming only highlights this, making us salivate at the idea of an ice-cold beverage or a tasty pizza.
Filming accentuates the colour, texture and movement, whetting our appetite for what's to come. Food filming also caters to such a wide audience – we all get hungry and we all need food. Therefore, the interest around cuisine is higher than other popular video content, such as gaming and fashion.
For example, Buzzfeed's "Tasty" page generates two-billion-plus views per month. We just can't get enough food imagery, be it stills or video. Food is covered at length in the media and is a surefire way to start a conversation online.
Food filming helps to create a sense of community too, whether you're a pasta lover or a vegan. Eating food is a social activity, and food imagery and videos have crossed over into the digital world while carrying on that sense of socialisation.
If you want people to interact with your content, after cute animals, food is the best way to engage with people.
How to nail your food filming
We've established that food has a high capacity for interaction. But if you're a brand, how do you create great-looking content? It's all about the look and feel when it comes to filming food and drink. Fortunately, there are a few tips and tricks that you can do to ensure that your video stands the best chance of succeeding, such as getting the lighting right, careful editing, telling a story and styling the food in the right way. But more importantly, you should explore the different filming and platforms types available.
>> Contact us about our food videography services
Best platform for your food content and how you should film on it
Instagram/Facebook adverts
Brands tend to target specific audiences with more personalised content on Instagram and Facebook, catering to a particular demographic. Short and sweet is often the best way to go, with ads on the big social media platforms generally much shorter in length than TV advertisements.
TikTok
Most of the food videos are stylised as homemade content on TikTok, and you have a 60-second limit to showcase your food. Many brands go down the route of encouraging their followers to partake in challenges, especially as TikTok's audience is primarily made up of Generation Z, who are increasingly interactive.
>> Read our blog on 7 food and drink brands nailing TikTok right now.
Recipe videos
If you're looking to inspire, recipe videos can do the trick. How-to- guides that are simple to follow and full of style are a big hit on online platforms. They work well as YouTube videos, and can even be good content for live streaming on Facebook and Instagram.
TV adverts
Despite the rise of social media, TV advertising is still a popular method for many food brands – if you can afford it. The ads cost a premium, and audiences are quite broad. But TV advertising is an effective way to get your product in a prime-time spot.
TV/cookery show sponsorship
Sponsoring popular cookery shows – either online or on TV – and events can inject some zest into your brand and ensure that you're aligned with a popular show. People will come to associate your offering with the show, which can prove to be beneficial for your brand.
Case studies and documentaries
Case study videos and documentary-style videos can be a great way to showcase the inner workings of how your food or drink products came to fruition. From following local farmers to looking at production of how an ad was made, viewers can gain extra insight to your brand and enjoy a more personalised experience.
Brands who nailed their food filming
So who are the brands absolutely nailing their food video content? Fortunately, there's lots of inspiration to draw on, whether it's successful social media campaigns, high-end food videos or great cookery content.
Everyone's favourite bakery doesn't take itself too seriously on social media. The result is high engagement, with the now infamous Greggs vegan sausage roll making its way to prime-time morning television. It all started with a simple YouTube ad that was replicated across other social media channels and lasted for just 36 seconds. Some 5.3 million-plus views later, and the Greggs vegan sausage roll is now legendary.
Fast-food giants Chipotle were one of the first brands to excel at TikTok, using the social media platform to create several challenges that went viral. Using popular internet culture, the brand received a myriad of user-generated content by asking followers to try challenges like #GuacDance, which broke records on the platform with 430 million impressions.
When you're an international brand, it's important to cater your content to different demographics. Heinz Brazil did just that, using adverts to showcase its natural ingredients. The sauce company replaced the traditional logo on its packaging with a shortlist of ingredients that make the sauce. It then made an accompanying ad to promote transparency. Not only did the bottles stand out from the crowd, but the advert generated significant interest and Heinz offered transparency about its ingredients with customers.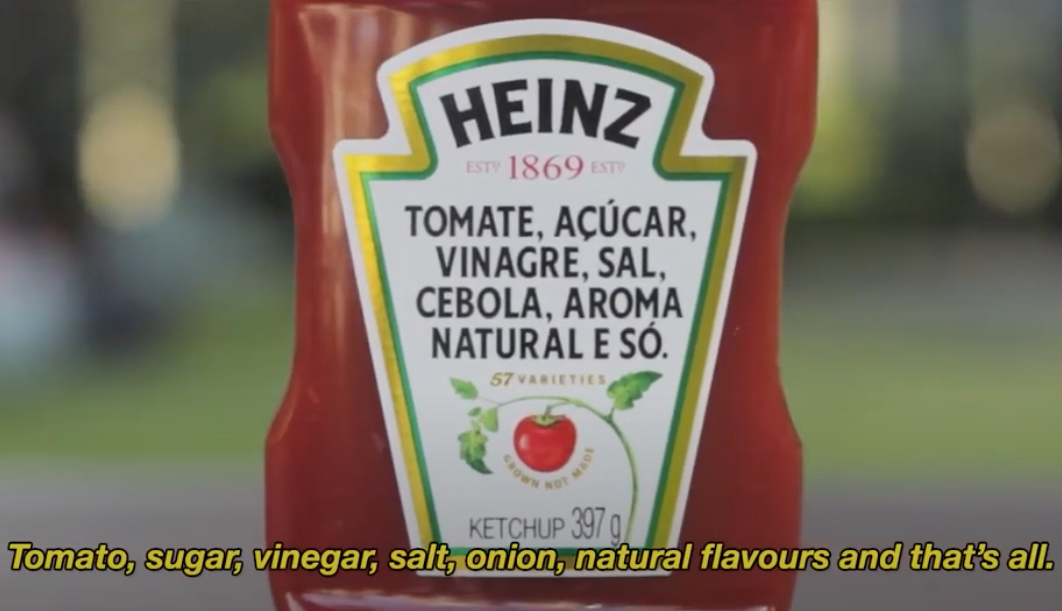 Summary
If you're in the world of food and beverage, you can't afford to miss out on the opportunities that come with video marketing. From short and snappy videos on social media to longer creations that showcase your brand's culinary ability, nothing can bring the look and feel of food and drink to life like a well-filmed video.
George Hughes is a former television Director and the Founder of the London video production company, Small Films. His company helps brands to communicate with a wider audience using strategic video content.
Want a professional hand in creating delicious looking content with our food videography services, Get in touch today.