If you sell your product online via your own e-commerce store, through Amazon or a third party retailer then product videos can dramatically help to increase your sales. These are videos for point of purchase that help people to make a quicker purchase decision. They are designed to both sell the product and provide shoppers with the right information to ease their minds and handle any objections they may have about buying your product. This all helps to build trust in your brand and increase the likelihood of a sale. Below we've chosen our top 8 tips for creating an awesome product video that converts more customers.
1. CONTEXT IS KING
Put your products into a real world scenario that feels relevant for your audience.
2. TELL YOUR PRODUCT'S STORY
Don't just brain dump information. Take your viewer on a journey, exploring the problems your product solves and what life will look like after buying your product.
3. DON'T FORGET YOUR TARGET AUDIENCE
Put yourself in their shoes. Consider what message will resonate best.
4. TAP INTO EMOTIONS
People buy products based on gut and instinct as much as their research. Try to communicate the "feeling" they will get by buying your product.
5. SHOWCASE YOUR BRAND'S IDENTITY
In a world of fake reviews and cheap knock-off products, brand has become hyper-important to shoppers. Tell your brand story and add value to your products.
6. HIGHLIGHT THE PRODUCT'S BENEFITS AS WELL AS THE KEY FEATURES
Product videos aren't just an informational video. They should focus on the real world benefits to the end user.
7. KEEP THE VIDEO ON BRAND
Make sure it's in the right colours, right fonts and reflects your brand in the right way.
8. ADD A CALL TO ACTION
Customer's want to be told what to do. Give them a next step whether that's buy now, find out more or visit our store.
Why work with a specialist product video company?
Creating a product video that is so effective that it drives increased sales involves development of messaging, possible animation, storytelling techniques and expert camera kit designed to capture all the highlights of the product. At Small Films we've filmed hundreds of product videos, and we've been lucky enough to work with many of the top brands too, including Aldi, Charlie Bigham's, Nextbase and The Sock Shop. Therefore our team, who have 30+ years' experience between them, know how to make product videos that will capture every highlight and benefit of your product.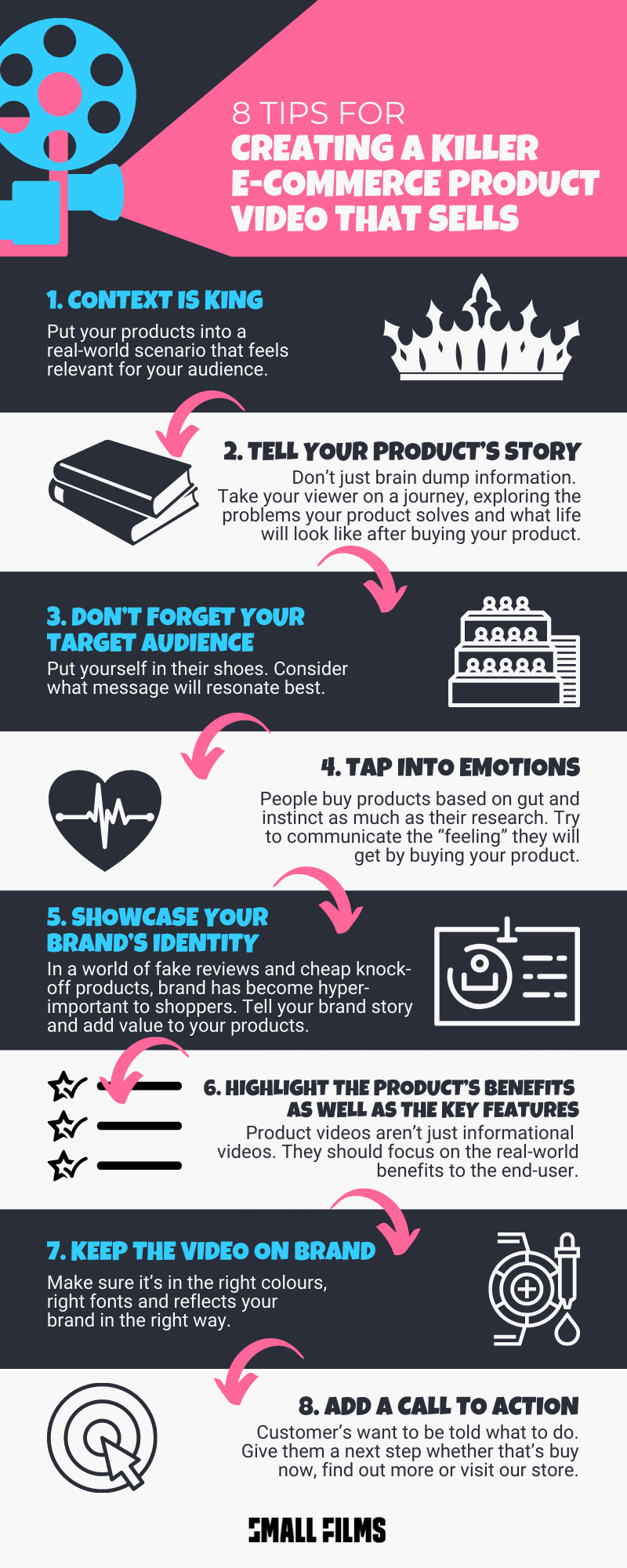 If you are looking for a video production company with expertise in product videos then do drop us a line, as we'd love to help.