The new year is a time for optimism and offers businesses of all sizes the perfect opportunity to build on the previous 12 months and set new goals. One of your targets for 2022 should be video content. Even if you've previously dabbled with video marketing, now is the time to go full-on and create excellent content to attract more customers. And to help you on your way, the Small Films team has listed 10 video types that every company should have in 2023.
1) Social media videos
Mackie's and Apple Pie by Small Films
Social media is becoming the de facto way to market a brand, with the likes of Facebook, YouTube, Twitter, Instagram, and TikTok providing the platform for high-quality content. Each social network caters to different audiences, but there's a common ground: video. If you want further proof that social media videos are essential, you only need to look at the numbers: videos get 48% more views on social media. Just make sure you use captions, as many people on social networks view the content without sound.
Every business needs an explainer video to help customers understand their products or service. They're great for the discovery stages of the buyer's journey and act as an educational tool designed to illustrate why someone should use your brand. Explainer videos can help generate leads and nurture customers. When done right, explainer videos amplify your brand without being too pushy. Their goal is to show customers how you can help, outlining a problem you know they have.
>> Need help from an explainer video company? The Small Films team has tons of experience with creating clear and engaging explainers
Unless you're the head of Apple or Google, you'll need customer testimonial videos to tell people the benefits of your brand. And using a video testimonial is a great way to show your previous user's emotions and how much they enjoyed using your product or service. In an ideal world, you'll create a series of these videos where customers explain the value of your brand with their first-hand experiences. Online reviews are becoming increasingly important for audiences, and customer testimonial videos offer a different dynamic from written reviews.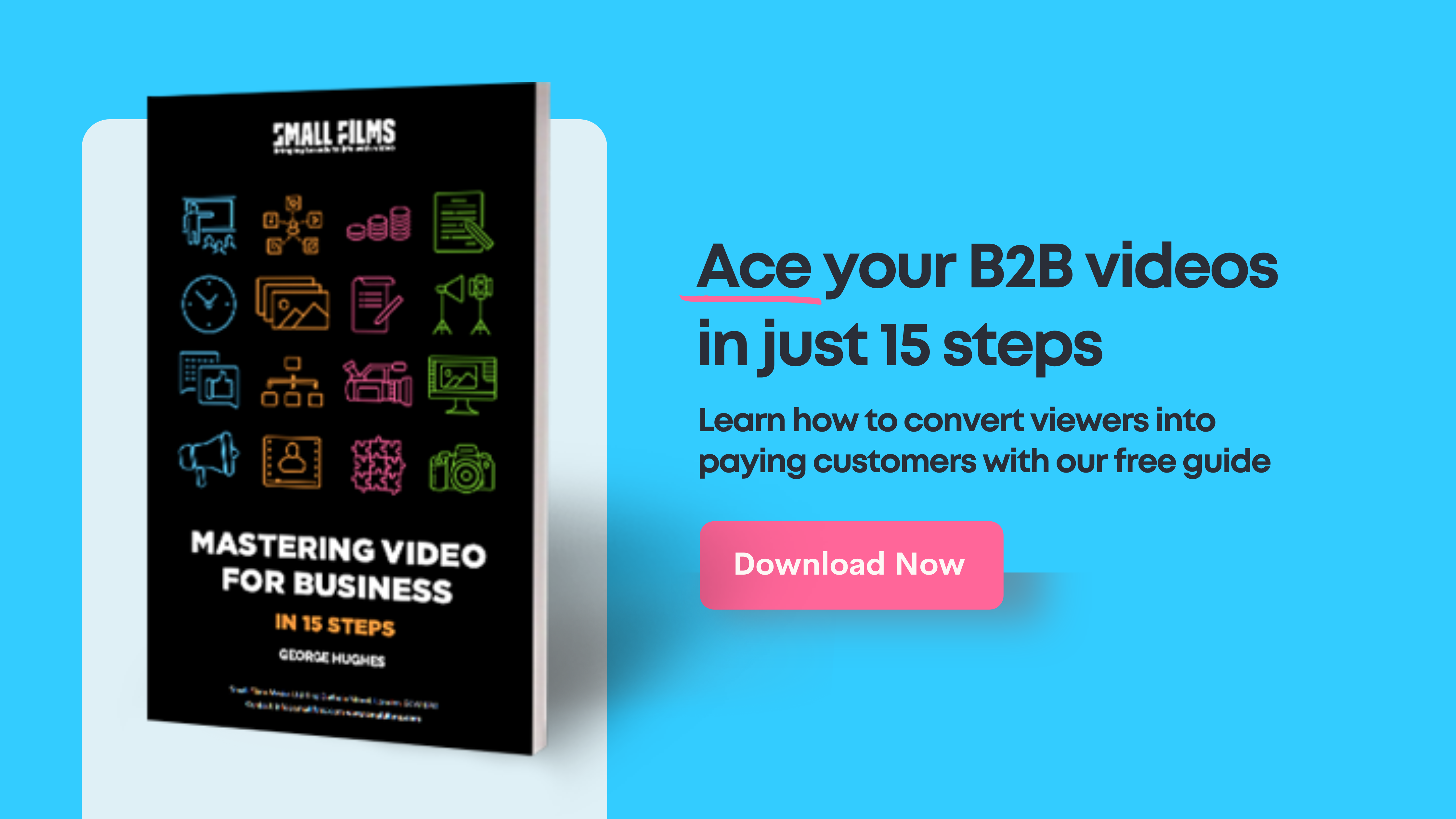 While explainer videos provide an overview of your company's USP, how-to videos focus on specific products and services. They're a handy way to give customers a product guide or demonstration, especially as people have less patience to read instructions these days. How-to videos can also be helpful for internal purposes, acting as a guide to new team members and forming part of their onboarding process.
5) Promotional videos
Promotional videos give you the chance to go in for a slightly harder sell, actively promoting something related to your brand. They can be adverts for an upcoming conference or webinar, providing brief details about an upcoming event. These types of videos often have a CTA to generate leads and prompt viewers to take action. You can also use promotional videos to give customers a preview of an upcoming product release or new service you're launching.
6) Content marketing video
Content marketing falls under many different guises, but it's ultimately used to provide value to your customers. It doesn't necessarily sell them anything and instead acts as an education tool. To illustrate, you can include a video in a written blogpost, summarising the article for people who don't have time to read it. Alternatively, you can record a video to provide a webinar session with your audience and answer questions about your brand. The aim is to provide value and come across as a thought leader in your industry.
7) Use cases
While a testimonial video highlights customer happiness, a use case dives a little deeper. It offers the chance for customers to demonstrate how they use your product and how it solves their problems. A use case lets you tell a longer, more in-depth story, looking at every aspect of the customer's journey with your product or service.
8) Live streaming
A live stream can take place as a webinar, but there are also other ways you can implement live feeds. Broadcast your brand and share a real-time event with audiences, whether it's a behind the scenes look at the company or live product demonstration. Customers can join in and become part of the live experience. This increases engagement, which is known to be 10 times higher with live streams and makes your audience feel as if they are part of the brand.
9) Company culture videos
Most video output aims to attract customers, but some should focus on promoting your company as a great place to work for future employees. This is where company culture videos come in handy, as they allow you to give people an intimate look into how your business operates. Company culture videos may include interviews with current team members, a close look at the business's day-to-day running, and showcase why your company is such a great place to work. The ultimate goal is to show your business authentically.
10) Branded content
Sometimes viewers just want to be entertained, and that's where branded content comes into effect. It's not necessarily selling anything, with the aim to provide viewer pleasure all in the good name of your brand. It helps position your brand as more than just a product or service, the same way that Red Bull doesn't just sell energy drinks; they take living to the extreme. You have plenty of creative freedom with branded content and can post it across your social channels, such as YouTube.
Final thoughts: video leads the way for 2024
Brands can't ignore video marketing as it becomes the primary way for audiences to interact with businesses. And by focusing on our 10 videos for 2022, you can make sure this year is one where you nail video content, generate leads and take your brand to the next level.
Small Films is a top video production company in London. We've shot films for a variety of brands including Aldi, Nextbase and EDF. If you'd like to have a chat with us about your next film, do drop us a line.