Rex London is an online gift shop selling uniquely designed gifts at attractive prices. As an online retailer, their primary route to customers is via their website, so the marketing team are always looking for innovative ways to make their business stand out in the online space. Creating video content had been something they'd wanted to explore, and so they began searching for video production companies to support them with a new project. The marketing team chose to work with Small Films because they loved our creative approach to video production and our creative ideas for their brand. 
The Brief:
Rex London wanted a brand film that would celebrate its story and highlight its brand personality whilst showcasing its products. They knew their brand identity was unique, and they wanted a video that would reflect it. The main objective for the brand film was to drive awareness of the brand on social media as well as sit on their website to increase inbound traffic. Head of Marketing Rachel McCarty also wanted to run this film as a paid advert on YouTube to drive sales for their Christmas campaign, so it needed to be engaging and impactful so viewers wouldn't hit the "skip" button. 
Sometimes clients have a detailed creative brief, and other times, they look for a video production company to come up with the creative vision. In this case, it was the latter, and that's great news for us. It meant we were given the opportunity to put our best creative foot forward and bring our best ideas to the table. Rex wanted Small Films to come up with the concept for the film and advise them on the best way to bring their story to life. 
So what did we do?
The Homework
We did everything we could to understand the brand, so we weren't just plucking ideas out of thin air. Firstly we conducted research into who exactly Rex London are and where they sit among its competitors. We wanted to understand their USP and the message they wanted to communicate to new and existing customers. It became clear that Rex London should highlight their uniquely illustrated products as well as share the story of its brand and their journey to becoming an online gift designer and brand. It also became clear through our research that the brand has an identifiably playful personality, and we decided this should direct the tone of the brand film. 
The concept
The core concept we presented to Rex was to do live filming with their products but then to bring the illustrations on the products to life with animation. We felt this would create a fun, magical film that was reflective of their brand.  

Final shot with an array of products
The scripting
The first stage was to write the script for the voiceover with some Rex London personality thrown in. A familiar and warm-sounding voiceover was used to underpin the brand identity. We used storyboards to conceptualise the ideas and shared these with the team at Rex London so that it was clear what the video would look like. We also did some animation tests to show them how the videos would look. 
The filming
We chose to film the products in a home-style setting to create multiple small scenes that helped relate the products to the real world. We used a specialist filming location that created the perfect backdrop for the products, and our camera team made the products look exceptional with advanced lighting setups.

Team member Brendon pulling a toy dog across screen for camera operator Scott
The editing
Using advanced motion graphic techniques, we were able to "paint out" the original designs from the products, leaving a blank canvas for our animator to work with. By working with the original design files on Adobe Illustrator, our animator was then able to bring the characters to life using Adobe After Effects. The right music track and professional voiceover then bring this film together. 
The Outcome
Rex London was delighted with the video content. They felt it reflected the playful tone of their brand and concisely told their story while celebrating the products. They were able to use the content across social and on their website, which has helped to increase awareness of the brand and boost sales. And the YouTube advertising campaign they ran was a huge success. The advert they ran was a skippable ad; however, around 20% of people watched to 100% of the video length, which is extremely high against the typical benchmark for ads of this kind.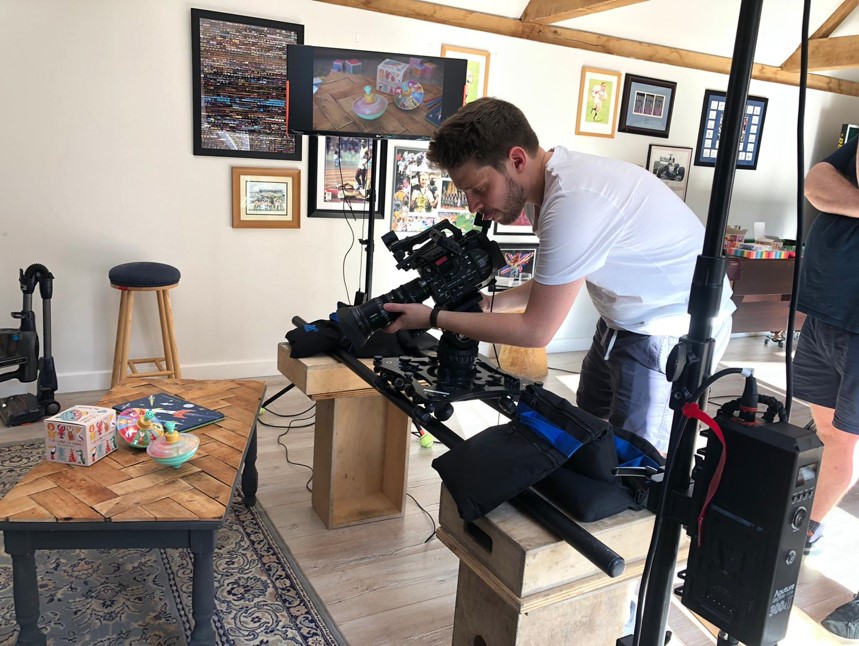 Shooting a spinning top!
The film was part of an overall campaign in the run-up to Christmas and helped them to generate sales figures that were 40% higher than the previous year's revenue for the same 12-week period. Apart from the general success of this film from these metrics, it was also incredibly well received by other stakeholders in the company. The in-house illustrators were particularly excited to see their designs brought to life with animated animals moving across the screen.
Rachel McCarty from Rex at Rex London has also been kind enough to share her thoughts about working with us in a testimonial. See the video here
About Small Films
Small Films is a video production company in London specialising in brand films, product videos and video campaigns. If you'd like a taste of the success Rex London achieved with their video, then do get in touch.