How Food and Drink Brands Can Use Online Video in 2019
The food and drink industry is one of the largest manufacturing sectors in the UK contributing £28.8bn to the economy and generating £22bn in export sales (FDF). In recent years we have seen new brands popping up left, right and centre, food networks dominating the online space and "How To Cook That" becoming one of the most searched phrases on Youtube. (OneSpot)
In 2019 food and drink brands should look enthusiastically to content marketing, and choose carefully the best avenues to take in order to achieve sales and growth. Amongst the many marketing opportunities available to food and drink brands, online video is consistently showing the best results and helping propel new brands into the spotlight. We've seen food channels like Twisted, Tasty and Tastemade take the industry by storm with their recipe videos. Also, with the popularity of online platforms like Youtube, Facebook and Instagram, it's never been easier for brands to share content and spread their messages.
So, what are the best ways a food and drink brand can use video online?
Online Advertising
The great thing about online advertising is that it's affordable, it takes advantage of the internet's wide and global reach and can be accurately targeted when engaging customers and audience. According to Forbes, because of the visual nature, 80% of users can recall a video ad they've seen in the past 30 days. (Forbes)
Instagram and Facebook allow you to create sponsored or promoted video ads and carousels that can be targeted to only appear on specific audience's news feed. These adverts can be targeted by demographics, geographical region, interests, job roles and lifestyles. So, you can produce a video that is specifically made, for example, for females above the age of 50 who work in London, and are interested in fine dining. You can then target these females with a promotional advert for a competition to win a fine dining experience at your restaurant.
Youtube offers a similar experience where you can host a "pre-roll" advert before a video and an "in-video" advert during the video. These adverts have the opportunity of being highly targeted as you can choose the best Youtube Channels to advertise on to suit your company's products. For example, Asda do pre-roll adverts that run before popular food Vlogs, which look like this.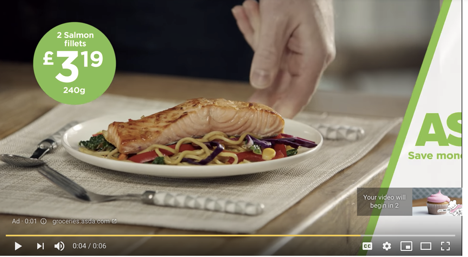 It's short, simple and resonates with the audience of foodies as it's about food and has a similar look to a recipe video. This type of advert maximises on engagement as it's quick and relates to the audience's interests.
As well as targeted ads on Youtube you can also advertise via Google on relevant platforms including food channels and forums like the Food Network and Delish, popular food magazines like Olive Magazine and Plant Based, or food blogs like Cookie and Kate.
Simply Cook have a banner ad at the top of a Delish recipe blog. It's bold and engaging, with clear branding that fits seamlessly across the overall site's style.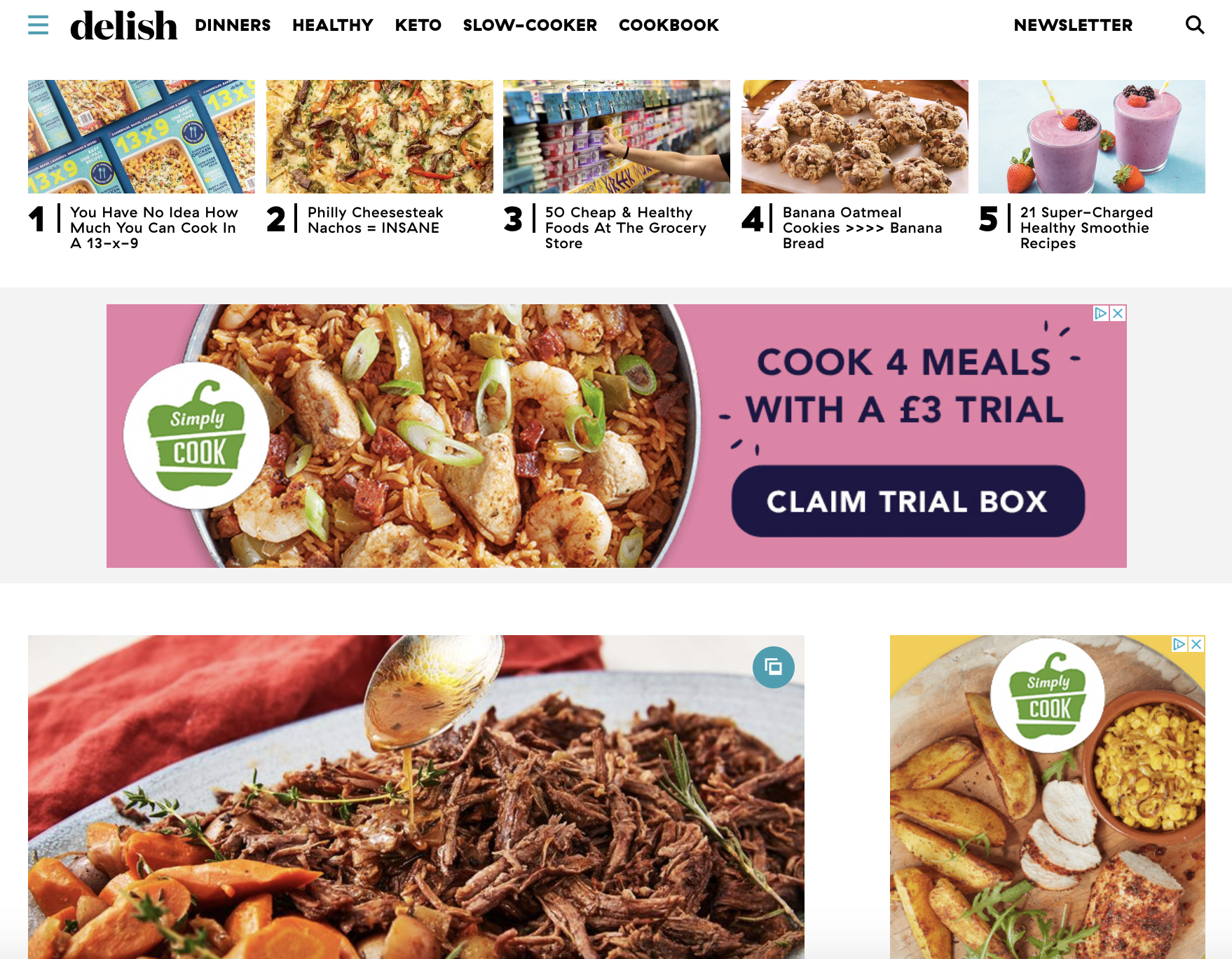 Branded Content
Branded content is regular videos for social media channels churned out daily or weekly, that promote a brand's products, personality and encourages consistent engagement from their customers.
You can use Youtube to create long form branded video content like recipe videos, videos of your company like "Meet the Team", "Meet the Chefs" and "Inside the Kitchen", or cooking shows. Videos like this highlight your company's personality and gives your audience something insightful or useful to take away. It's one of the best ways to drive engagement with your brand.
Mindful Chef filled us in on what they had been doing over the Christmas period, collecting food from customers and audiences to give to the homeless.
And Absolut Vodka have done videos on their Youtube channel showing how to create alcoholic cocktails like this one.
Longer form Youtube videos can be easily shortened and included in your social media feeds like Facebook and Instagram Stories. This offers people eye-catching and bite sized content.
These videos are effective at engaging audiences during their on-the-go activities, whether on their lunch, at the gym or on a train, it encourages them to stop and watch what you are up to because it's exciting.
And seriously think about using Facebook or Instagram Live for highly dynamic videos that will really engage your followers. You can film events, talk shows that you host, something that's happening in your company or a behind the scenes of a shoot. Because it's live, people will stop and take notice.
Collaboration Videos
Collaboration videos are a great way for food and drink brands to come together and promote a like minded message. If you're a cereal brand you can collaborate with a milk brand to create different breakfast recipe ideas. Or, both brands could create a video to promote a trendy activity like Veganuary. You can also collaborate with like minded food bloggers and vloggers to promote your brand. Send them your products to feature on one of their videos and receive direct engagement from their loyal fans.
Spoon Cereal did a collaboration video with Liberte Yogurt UK and made a 2 minute recipe video on Youtube that they marketed on Instagram story.
Food and drink brands can also do paid partnerships and collaboration videos online with food channels like Tasty and have products featured in a Tasty recipe video on social media. Tasty recently did one on Instagram with Ciroc.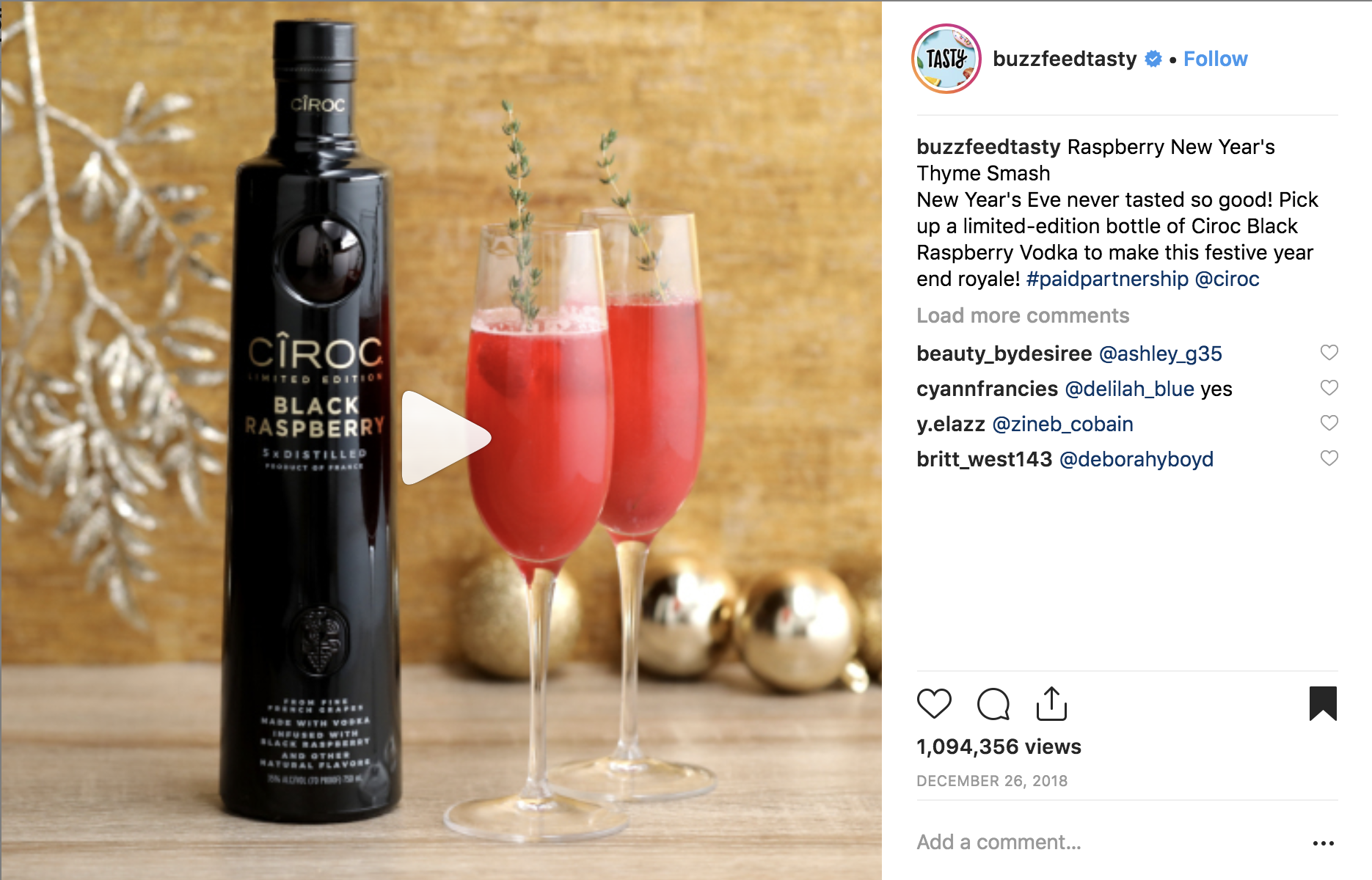 Influencer Video Marketing
This is a great way for food and drink brands to market their products. Influencer video marketing has become extremely popular in the last couple years. Because of the increasing popularity of social media, we have seen the proliferation of "influential people", a person with a wide or large network of fans and followers. We have "Public Figures" on Instagram, famous Vloggers on Youtube, bloggers who have turned into celebrities and celebrities in the "traditional sense" like TV chefs. If you can get Kim Kardashian to upload a picture of your product on her Instagram, you have instantly hit 1 million customers. It offers you reach, it has strong promotional value and advertises your products direct to your ideal customers. Just be ready to pay as these guys don't come cheap!
The Goat Agency used their influencer network to promote Graze the healthy snacking brand. They selected female influencers with a large female following in the UK and got them to post videos of the Graze products with a promotional code on their Instagram stories.

There are also micro-influencers that won't have the same 4M followers that a Kardashian has but they do have a solid 10K of loyal fans and followers. This could offer you a better return on your investment as you have more choice and you could spread the sponsorship across a different number of relevant influencers. If you're a vegan milk brand who wants to break into the Australian market, you could send your products to a vegan lifestyle Vlogger in Australia.
Multichannel Campaign
Once you've mastered all those different forms of online video you can then begin to tie it all together and create one big multichannel campaign. These work extremely well in the lead up to an event or when promoting a new product or trend. For example, Veganuary is upon us and it happens every year. Greggs just launched their Vegan Sausage roll and promoted it online with a video that looked very similar to the IPhone advert.
For a whole month you can create a multichannel campaign of online videos, advertisements and events that all relate and compliment each other. You can post vegan recipe videos on youtube, post short versions of the recipe videos on social media, run online advertisements of the vegan products, and send out promotional videos of your products – all with the same look and feel. Finally, you hold pop ups around town or in supermarkets allowing the public to taste your product. This all ties together to create one big multichannel campaign that can receive a lot of audience engagement.
Over Christmas, Baileys spent 4.3M on a multichannel campaign called "It's Not Christmas Without You" comprising of a TV ad, Outdoor ads, social media content and Pop up stalls, samplings and events in shopping centres. (The Grocer)
There are a lot a different ways food and drink brands can use video online but these are some of the ones that will really help push your brand into the limelight in 2019. And, as the number of people watching videos online only continues to grow, with video predicted to make up to 80% of all global traffic by 2019. (Tubular Insights) Why wouldn't you be looking to creating video this year? Give some of these a go and really spice up your food and drink marketing this year with some awesome video content.