How brands can use documentary-style video in content marketing
But what is documentary-style video content exactly?
Imagine a documentary you see on television about a subject you are passionate about… it could be anything from rock climbing or emerging music artists to disaster relief or homelessness. Now imagine a brand has taken the initiative to create that documentary content and distribute in online for free without a strong advertising agenda. It's the newest form of video content that is emerging and there's a very good reason why it is so successful. Rather than creating a commercial that relies on a big advertising spend to distribute it successfully, by creating free, short-form documentaries, the brand will not only have the potential for massive organic sharing on social media but also to lift its image in the eyes of its customers.
But why is this style of video content suddenly becoming so prevalent?
Video is King

It's old news that video is the undisputed King of content marketing. Research shows that 60% of online consumers will watch a video before reading any text and video has the highest click through rate of any form of digital advertising (Sismek). Video content is also highly engaging – it is shared across social channels a whopping 1200% more than just links and text combined (Simply Measured). The stats say it all. Any business that is serious about marketing will be taking advantage of video's many benefits, particularly when it comes to communicating their brand identities and stories.
Cut through the clutter
But in an online world where the moving image increasingly dominates, how can brands cut through the visual clutter and stand out from the crowd? This year, almost 80% of internet traffic is predicted to be video (Cisco). As the quantity of video increases, consumers are becoming more discerning and selective about what they choose to watch, and social media algorithms are changing to weed out the more spammy branded content and click bait from our news feeds. The average modern consumer is advertising savvy and likes to consume media proactively. Consumers are now deciding how and when to interact with their brands of choice and are increasingly rejecting traditional overt marketing and advertising methods.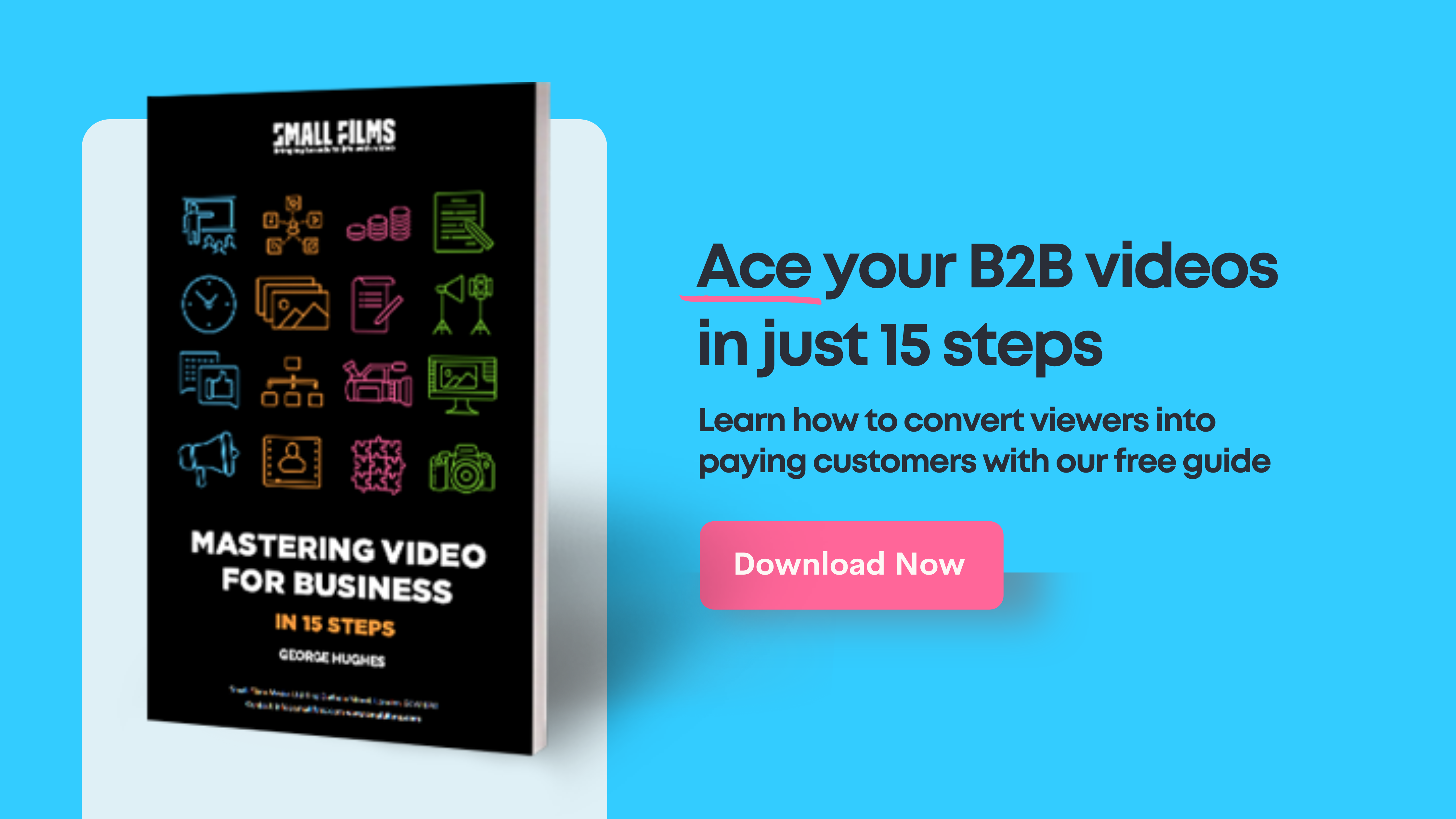 Quality over quantity
Brands then, need to keep on their toes to reflect the changing online consumer environment when it comes to creating content that their audience will want to engage with. Video is great – but just producing lots of standard video content is no longer enough. The challenge now for brands is to achieve quality over quantity. Video content creation is moving into a more strategic and thoughtful phase. As the emphasis shifts towards longer form, more meaningful and memorable content that consumers actively want to watch, and that social channels reward, documentary-style branded video is coming into its own.
The rise of the documentary-style branded video
'Storytelling' is the marketing buzzword du jour, and video content naturally lends itself to this method of communicating brand identity. The documentary-style branded video takes this idea a step further. If stories are universally appealing to audiences, a short film or documentary style video offers a bigger and better vehicle for delivering them than a traditional short-form video. Reflecting the move away from overt marketing, documentary-style video provides a way for brands to use other people's stories to indirectly communicate something about themselves. By using the longer-form story-centric format, they can make the most of dramatic and emotional elements thereby attracting and retaining viewers. It gives brands a chance to be creative, to target particular audiences with specifically tailored content, and above all, it helps them stand out from the crowd.
The brands leading the way in documentary-style video
These forward-thinking brands are showing how the investment can really pay off in terms of profile and engagement:
Volvo – Human Made Stories
Documentary-style content is an effective way of aligning your brand with certain values. Last year Volvo partnered with Sky Atlantic to produce a series of inspiring short films centring on the emotional impact of human innovation. 'Nemo's Garden', the first in the series, tells the story of an Italian father and son who come up with a system to grow crops in the ocean in response to the problems caused by climate change and the declining viability of existing farmland. The stories have compelling emotional and dramatic impact – and effectively communicate Volvo's commitment to innovation, along with its human and progressive values.
Coors Light
The beer giant recently moved into documentary-style film to differentiate itself from other similar popular beer brands and to shift away from its light and jokey image. In a series of real-life stories celebrating diversity and focusing on overcoming adversity, Coors have been trying to assert their authenticity and market their product 'in real-life settings and scenarios'. The first spot, 'My Climb. My Story', features Shezi, An LA Based fashion designer who is battling a tumour. The film documents his fight back to fitness and the re-launch of his business. The Coors branding is subtle and the product only appears in the final launch party scene reflecting the move towards more indirect forms of marketing content.
Stella Artois – Our Dream of Water
Documentary-style film making allows brands to tackle serious issues and communicate 'socially-conscious' values. Having been collaborating with water charity water.org on the Buy a Lady a Drink campaign, Stella Artois then partnered with National Geographic to commission an award winning film director to make a documentary highlighting the impact of the global water crisis on communities around the world, particularly focusing on women.
They further invested in documentary by then sponsoring the Women in Film organisation to provide four $25,000 grants to women film-makers making socially conscious documentaries, especially those focusing on water. This socially conscious branding is great news for charities of course, but is obviously primarily a shrewd marketing move by Stella Artois. Female beer drinkers are occupying an increasing share of the market and research shows that women are more 'socially minded' than men. Stella has clearly adopted a female targeted marketing strategy and is using documentary film successfully to achieve its goals.
Patagonia – Worn Wear
Outdoor clothing brand Patagonia uses documentary film brilliantly to express passion and authenticity through compelling storytelling. One notable film they produced is 'Worn Wear' – a documentary with a simple premise – the 'stories we wear'. Starting with the founder explaining how his love for mountaineering led him to turn his passion into a business, the film goes on to feature Patagonia customers talking about the clothing they have bought, and how it has served them over the years and through different adventures. The whole film is beautifully shot, and emphasises the company's integrity. They are not giving the hard sell – just illustrating the quality and durability of their products through honest human stories, whilst also communicating their brand values of wholesome outdoor activity and environmental awareness. A perfect piece of inspirational documentary marketing.
Documentary-style content without the price tag
There's a common misconception that only the biggest brands have the budget and resources to create documentary -style content. That couldn't be further from the truth. With advances in affordable camera technology and the growing talent pool, video is cheaper to create today than it has ever been in history. It means video production companies can create documentary-style content for any small to medium size business. For now, its mainly the big brands who have cottoned on to its value as a marketing tool.. watch this space as the smaller brands start to catch up.
Small Films' founder George Hughes spent 15 years producing and directing content for TV broadcast including serious documentary. For more information about how Small Films can help you with engaging documentary marketing content, contact us here.
Small Films are video content specialists. By combining strategic minds with the creative flair we create powerful stories with video that deeply resonate with audiences, supporting our clients to achieve their ambitions in growing their organisation, brand or campaign.